If you want to read my trip report for this trip, it is here:
Trip Report
Magic Kingdom: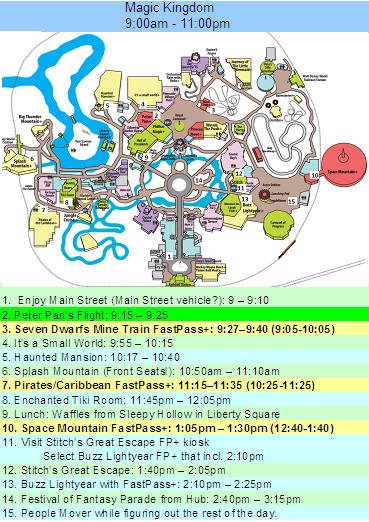 The maps shown here are all from www.easywdw.com.
For those interested in how our actual touring lined up with our plans, here is what I posted on the EasyWDW forum:
MK was a most recommended park that day. The predicted crowd level was 4.
I got a smart phone shortly before we went, so I did Facebook check-ins for most of the rides we went on. According to those check-ins, here is how we did:
Peter Pan – 9:16a
Seven Dwarfs - no check-in, FP+
It's a Small World – 9:54
Haunted mansion - no check-in
Splash – front row! – 10:32
Pirates of the Caribbean – 11:22 FP+
Enchanted Tiki Room – 11:46
Sleepy Hollow Lunch – 12:27
Space Mountain - no check-in, FP+
Stitch's Great Escape – 1:42
Buzz Lightyear – 2:10 FP+
People Mover
Festival of Fantasy Parade – outside Liberty Tavern
Walt Disney World Railroad
Mad Tea Party – 4:59 (twice)
Dumbo – 5:17
Barnstormer – 5:23
Journey of the Little Mermaid – 6:00
Tried to meet Rapunzel and Cinderella – 6:23
Random Pooh sighting – 7:27
Carousel of Progress – 7:57
Met Mickey – 8:20 FP+
Met Ariel – 9:03 FP+
Space Mountain – 9:22 FP+
Celebrate the Magic – 9:45
Wishes – 10:00
Waited for parade in rocking chair in FrontierLand
Main Street Electric Parade – 11:15
For our Hollywood Studios and Epcot day, here is how we did:
1. Toy Story – No check in
2. Rockin' Roller Coaster – 9:39
3. Voyage of the Little Mermaid show – 9:54
4. Great Movie Ride – 10:29
5. Trolley Car Café for Starbucks – 11:06
6. Frozen Sing-Along – 11:26
7. Carrot Cake Cookies – 12:10
8. Boat to Epcot – 12:26
9. Meeting Mary Poppins – 1:21
10. Citron Slushie in France – 2:05
11. Epcot Character Spot – 3:02
12. Spaceship Earth - 3:29
13. The Seas with Nemo – 4:12
14. Living with the Land – 5:29
15. Test Track – 6:49
16. Check-in for Rose and Crown ADR 7:12 (7:10 ADR)
17. Seated for ADR 7:38
18. Canadian Pavilion – 8:29
19. Mexico Pavilion – 8:30
20. Norway Pavilion – 8:32
21. China Pavilion – 8:32
22. Germany Pavilion – 8:35
23. Italy Pavilion – 8:35
24. American Adventure – 8:37
25. Japan Pavilion – 8:39
26. Morocco Pavilion – 8:40
27. France Pavilion – 8:41
28. United Kingdom Pavilion – 8:43
29. Illuminations from bridge between UK and France – 9:00
30. Spent the rest of the evening wandering counter-clockwise through World Showcase, ending with 3 Amigos ride in Mexico at 11:10